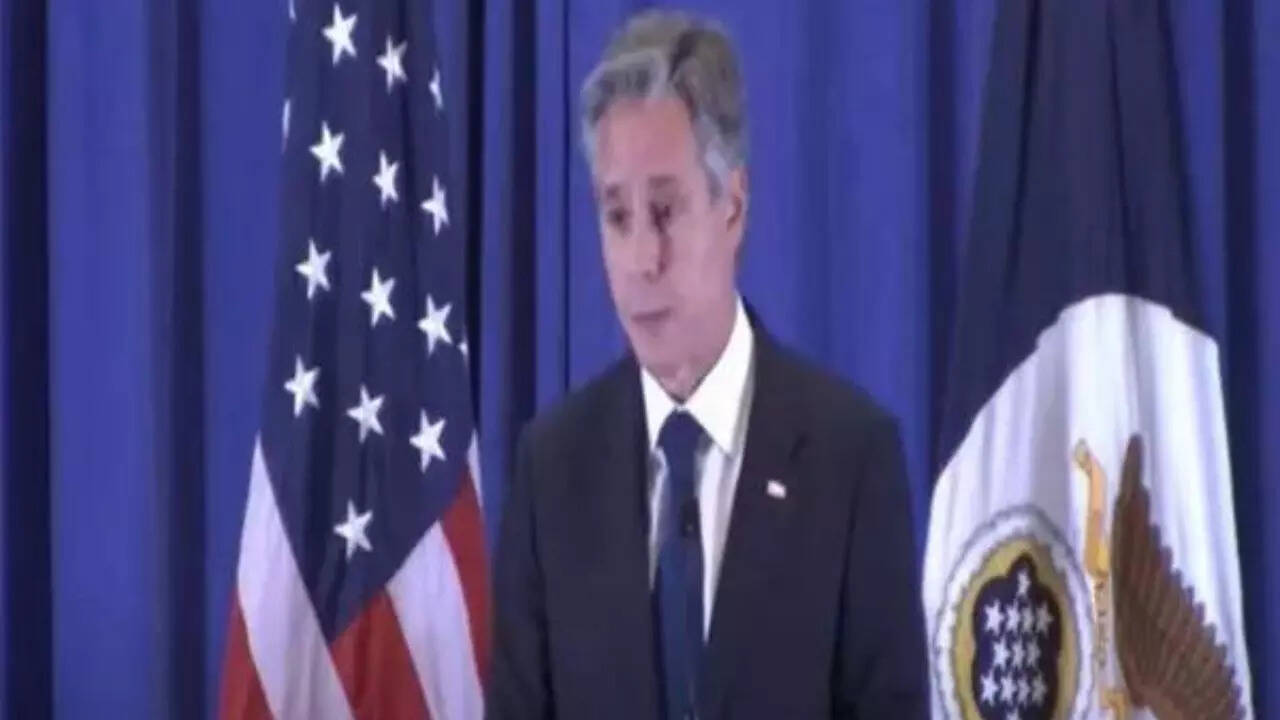 New York, US Secretary of State Antony Blinken has said America is deeply concerned about Canadian Prime Minister
Justin Trudeau
's allegations of India's potential involvement in the killing of a Sikh separatist and that it would be important that New Delhi works with Ottawa on this investigation.
Speaking at a press conference here on Friday, Blinken said the US has engaged directly with the Indian government on the issue and the most productive thing would be the completion of this investigation.
Tensions flared between India and
Canada
early this week following Trudeau's explosive allegations of the "potential" involvement of Indian agents in the killing of Khalistani extremist Hardeep Singh Nijjar in British Columbia on June 18. India had designated Nijjar as a terrorist in 2020.
India angrily rejected the allegations as "absurd" and "motivated", and expelled a senior Canadian diplomat in a tit-for-tat move to Ottawa's expulsion of an Indian official over the case.
Responding to a question on Trudeau's allegations against India, Blinken said, "Let me say a few things about this. First, we are deeply concerned about the allegations that Prime Minister Trudeau has raised."
"We have been consulting throughout very closely with our Canadian colleagues, and not just consulting, coordinating with them on this issue. And from our perspective, it is critical that the Canadian investigation proceeds and it would be important that India work with the Canadians on this investigation.
"We want to see accountability and it's important that the investigation runs its course and leads to that result," he said.
Blinken was also asked about reports that President Joe Biden "personally" raised the issue with Prime Minister Narendra Modi.
"I'm not going to characterise or otherwise speak to diplomatic conversations that we have.
"We've been engaged directly with the Indian government as well. And again, I think the most productive thing that can happen now is to see this investigation move forward (and) be completed. And we would hope that our Indian friends would cooperate with that investigation as well," the Secretary of State said.
He said the US is "extremely vigilant about any instances of alleged transnational repression" and takes them "very, very seriously".
"And I think it's important more broadly for the international system that any country that might consider engaging in such acts (does) not do so. So it's something that we're also focused on in a much broader way," Blinken said.
Nijjar, 45, the chief of the banned Khalistan Tiger Force (KTF), was one of India's most-wanted terrorists who carried a cash reward of Rs 10 lakh on his head. He was shot dead outside a gurdwara in Surrey.
While Canada hasn't yet provided any public evidence to back its claims, a media report citing Canadian government sources said that Ottawa's allegations are based on both human and signals intelligence and inputs from an ally the Five Eye intelligence network.
The Five Eyes network is an intelligence alliance consisting of the United States, the United Kingdom, Australia, Canada and New Zealand.
The Canadian government has amassed both human and signals intelligence in a months-long investigation of the Sikh man's death that has inflamed relations with India, CBC News, a division of the Canadian Broadcasting Corporation, reported on Thursday quoting sources.
That intelligence includes communications involving Indian officials themselves, including Indian diplomats present in Canada, according to Canadian government sources.
Prime Minister Trudeau on Thursday said Canada is not looking to "provoke or cause problems" with India as he urged New Delhi to take the matter "extremely seriously" and work with Ottawa to "uncover the truth".
India asked Canada to come down hard on terrorists and anti-India elements operating from its soil and suspended visa services for Canadians.
India also asked Canada to downsize its diplomatic staff in the country, arguing that there should be parity in strength and rank equivalence in the mutual diplomatic presence.
The size of Canadian diplomatic staff in India is larger than what New Delhi has in Canada.
The India-Canada ties had been reeling under some strain for the last few months in view of increasing activities of the pro-Khalistani elements in the North American country.
India believes the Trudeau government is not addressing its genuine concerns.