NEW DELHI: India target a third
World Cup
when cricket's global showpiece gets underway on Thursday. The epic tournament features 10 nations playing 48 matches over 46 days at 10 different venues. The opening match on Thursday between champions England and New Zealand as well as the final on November 19 are being staged at Ahmedabad's Narendra Modi Stadium. India will face Pakistan at the mega-venue on October 14.
Kuldeep Yadav
– Chinaman bowler
Having displayed exceptional form in recent ODI outings, Kuldeep Yadav is being touted as one of India's potential game-changers in the highly anticipated 2023 ODI World Cup.
Kuldeep's reputation as a spinner with a touch of mystery precedes him, celebrated for his chinaman spin bowling and the ability to craft intricate webs of deception on the cricket field. Batsmen worldwide have often found it difficult to deal with his cunningness and adaptability.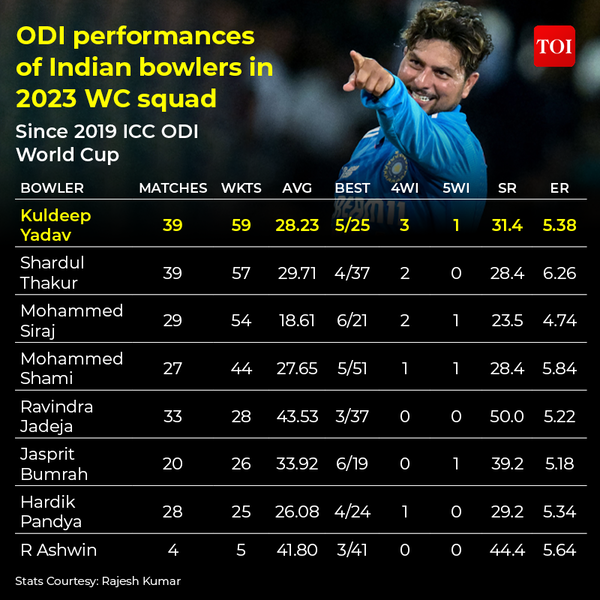 Following a changed and closer-to-the-stumps run-up, his unique capability to bewilder opponents has seen his ODI tally grow to 152 wickets from 90 matches, with an economy rate hovering just above the five-run mark.
After shining with the ball in the Asia Cup and subsequent series against Australia, Kuldeep's sights are now fixed on World Cup glory. Kuleep is India's highest ODI wicket-taker so far this year and the second highest overall, with 33 scalps in 17 ODIs.
ICC World Cup 2023: Men in blue arrive in Thiruvananthapuram ahead of warm-up match with Netherlands
Ishan Kishan – Top order left-handed batter
Ishan Kishan is a rising star in Indian cricket, having already left an indelible mark on the sport with his fearless batting and remarkable adaptability. Initially drafted into the national team as a replacement for Rishabh Pant, Kishan has swiftly become an indispensable asset in Rohit Sharma and Rahul Dravid's scheme of things.
Kishan's journey to prominence was punctuated by a scintillating inning, etched in cricketing history. In a thrilling 2023 Asia Cup encounter against arch-rivals Pakistan, he showcased his mettle, crafting an impressive 82 off just 81 deliveries. This innings underlined his ability to thrive under pressure and his unflinching approach to batting.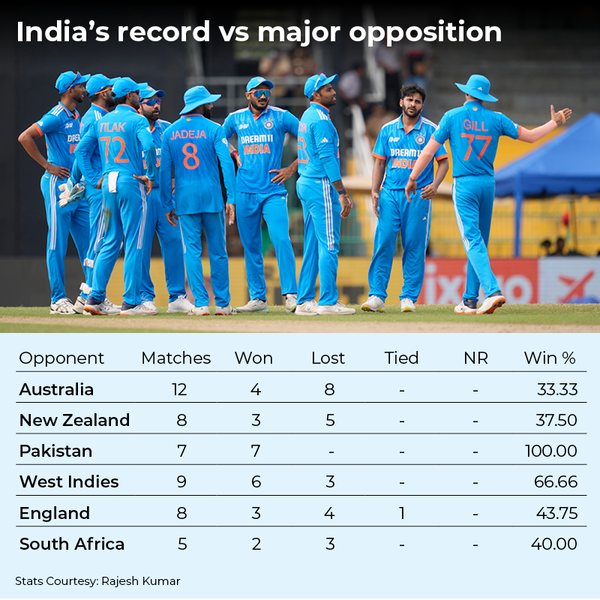 He defies the conventional boundaries of batting positions, seamlessly transitioning from an opener to bolstering the middle order or even assuming the role of a finisher. This chameleon-like adaptability infuses India's batting lineup with much-needed flexibility, allowing them to navigate various match scenarios with ease.
Boasting a burgeoning average of 44.3 runs in One Day Internationals (ODIs), Kishan has emphatically demonstrated his prowess on the international stage. As he braces for his maiden appearance in the ODI World Cup, Kishan's contributions, with gloves or bat, could be a key factor in India's overall campaign.
His overall ODI career includes 25 appearances for India, including 10 played on home grounds. In 25 ODI matches, Kishan has scored 886 runs including a 210-run knock against Bangladesh in December 2022.
Shubman Gill – Right-handed opening batter
Shubman Gill's superb form, marked by a century and a half-century against Australia, positions him as a key asset for India in the upcoming World Cup.
Gill's century in the second ODI against Australia was a particularly impressive performance as the right-handed batsman, who has already amassed six 100s and nine 50s from 35 ODI innings, scored 104 runs off 97 balls.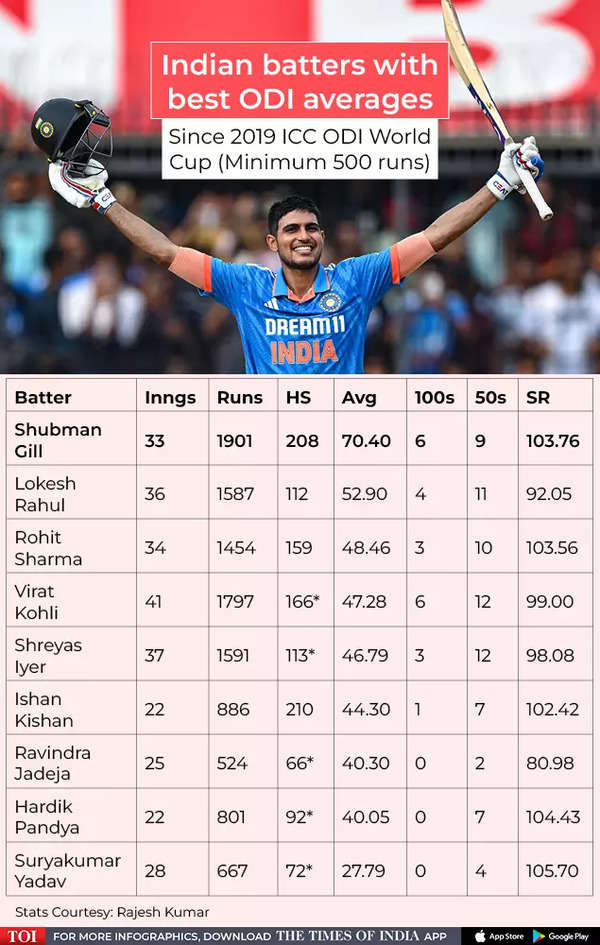 In a very short period of time, this very talented right-handed top order batter has managed to cement his place in the Indian scheme of things. He is the designated opener for India in the upcoming ODI World Cup at home along with senior team-mate and captain Rohit Sharma.
What Gill does very very well is pace his innings. Thanks to his solid technique, he has the natural ability to start slow and then gather momentum and pace as he settles in.
In 2023, Gill is the overall highest ODI run scorer so far. He has managed to score an incredible 1230 runs in 20 innings, with 5 centuries, 5 half-centuries and an average of over 72.