NEW DELHI: With Karnataka giving an overwhelming mandate to the Congress, top leaders of the party were quick to give credit to
Rahul Gandhi
's Bharat Jodo Yatra, which they said brought to light the "hatred being spread by the BJP" all while "uniting the party, reviving the cadre and shaping the narrative for the Karnataka elections".
In a tweet on Saturday, Congress general secretary in-charge communications Jairam Ramesh said: "It was during the Bharat Jodo Yatra, from the many conversations that Rahul Gandhi had with the people of Karnataka, that the guarantees and the promises in our manifesto were discussed and finalised."
He also shared an image, displaying the assembly constituencies that the yatra went through and how the vote of the people changed.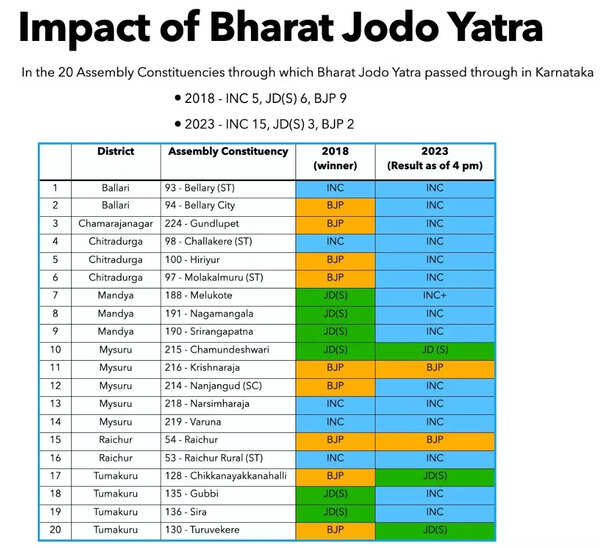 According to the party, the yatra crossed 20 assembly constituencies in the state. In 2018, BJP held 9 of the seats, JD(S) 6 and Congress 5.
After the yatra, when the people went to the polls in 2023, the Congress won 15 of the 20 seats, JD(S) won 3 and BJP 2.
The Congress said that in the clash of narratives between Prime Minister Narendra Modi and the yatra, the cross-country foot march is a "clear winner".
Talking about the yatra's role in the Congress' performance in the southern state, Ramesh told reporters: "It was the Sanjeevini for the party. It energised the organisation and instilled a deep sense of unity and solidarity among leaders and workers."
"The Bharat Jodo Yatra started a particular narrative in Indian politics which the people of India were waiting for," Congress' media and publicity department head Pawan Khera said when asked about the yatra factor. "In Karnataka, the Bharat Jodo Yatra spent about 22 days. If you remember the visuals of the Bharat Jodo Yatra, Rahul Gandhi being drenched in the rain and continuing his speech in October, I think these visuals have stayed in people's mind," he added. 00:52
Congress shares 'I'm Unstoppable' Rahul Gandhi post as Karnataka election trends show Congress ahead
The Rahul Gandhi-led 'Bharat Jodo Yatra' entered Karnataka on September 30 at Gundlupet in Chamarajanagara district. It passed through Chamarajanagara, Mysuru, Mandya, Tumkur, Chitradurga, Bellary and Raichur, traversing a distance of over 500 kms in about 22 days in the state.
The march had seen massive crowds during its stay in the state with people from all walks of life joining it. It was hailed as a success but many had raised questions over its electoral impact.
Many in the party feel it has played a critical role in boosting the Congress' electoral fortunes in the state and its impact is there for everyone to see.
(With inputs from agencies)