Indian Railways is developing a dedicated high-speed test track for testing trains at speeds up to 220 kilometres per hour. The 59 kilometres long dedicated broad gauge track is being constructed between Gudha-Thathana Mithri in Jodhpur Division (about 70 kilometres from Jaipur) in Rajasthan.
The all elevated test track will also be used for testing of Vande Bharat Express trains in the coming years. Indian Railways claims that with the completion of this track project, India will be the "first country to have comprehensive testing facilities of international standards for rolling stocks."
Testing trains at 220 kmph
The high-speed dedicated railway tracks will consist of; 23 kilometres long main line, a high-speed loop at Gudha which will be 13 kilometres long, an accelerated testing loop of 3 kilometres at Nawa, and a 20 kilometres curve testing loop at Mithri.
According to North West Railway zone CPRO, the first phase of the high speed test track will be completed by December 2023. "The project is progressing well and we hope to complete the second phase by December 2024," Captain Shashi Kiran told TOI.
Indian Railways has said the high speed test track will allow for comprehensive testing facilities of trains and rolling stock components viz. both dynamic oscillation trials (up to a speed of 220 kmph) and static assessment of the vehicles duly evaluating all safety parameters. "There will be study of rail-wheel interaction forces, crashworthiness testing, stability testing, twist & yaw testing, coefficient of flexibility test, wheel offloading test, X-factor test, bogie rotational resistance tests and accelerated testing of components are being developed in the project," railways said.
Vande Bharat Express: New aluminium trains to be game-changers at 200 kmph
Additionally, 220 kmph Overhead Equipment (OHE) and all types of signaling systems are being provided on the test track. "Testing of track items, bridges, TRD equipment, signaling gear and Geo-technical studies are also envisaged in the test track facility being developed," railways added.
The twisted track of 4.5 kms for static testing of rolling stock has been completed and commissioned. Indian Railways has said that the work of 31.5 kms high-speed stretch and 3 kms accelerated testing loop is in full swing and will be completed by December 2023.
Indian Railways hopes to start testing its trains including the modern semi-high speed Vande Bharat Express trains on the new test track in this financial year itself. Meanwhile, the land acquisition for the curve testing loop at Mithri is in advanced stage and this stretch will also be operational by the end of 2024, railways said.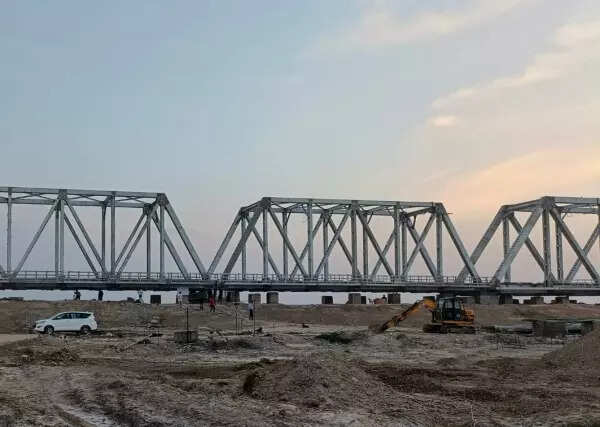 High speed test track under construction
Why Indian Railways needs high-speed test tracks
The project for testing trains at 220 kmph assumes significance since Indian Railways is in the process of finalising a tender for manufacture of 100 aluminium Vande Bharat train sets. Indian Railways currently manufactures stainless steel trains, and this would be the first time that the national transporter is looking to acquire prowess to make aluminium trains.
Two railway majors – France's Alstom and Medha along with Swiss company Stadler have submitted the technical bids for this Rs 30,000 crore project. Aluminium trains are lighter and can attain speeds of over 200 kmph.
Sudhanshu Mani, the innovator of Train 18 or Vande Bharat train believes the project to build a high speed test track is a good step.
"The project for a high speed test track in principle sounds good, especially as railways is looking to finalise the tender for 100 aluminium train sets which will be capable of 200 kmph speeds," he tells TOI.
However, Mani points out that merely testing trains at 200 kmph is not enough. "There needs to be visibility to first upgrade key routes like Delhi-Mumbai and Delhi Howrah to 160 kmph and then maybe even 200 kmph," he says.
According to the former ICF GM, upgrading tracks and infrastructure to 200 kmph will require a lot of investment in improving the formation, track itself, easing of curves, OHE and signalling. "Before that the standards and guidelines for track structure and allied infrastructure and its maintenance will need to be worked out; such standards exist only for up to 160 kmph operation. So, 200 kmph operation on existing tracks is more like a dream, which is feasible but only through strong and concerted plan and action," he concludes.