She made mistakes, stumbled and cried but managed to restyle all her sour experiences into good ones. All thanks to her wit and the urge of becoming a camouflage artist. From starting her singing career at a tender age, performing at nightclubs in sarees, to having
Bollywood
blockbusters to her credit,
Usha Uthup
is known as India's first female pop singer. She might have acted in many multi-lingual films and sung thousands of songs in her career spanning 53 years, but it's her heavy, husky, sharp and unconventional voice that stands for her identity. She is known for heart-thumping and popular songs like 'Koi Yahan Nache Nache', 'Shaan Se', 'Hari Om Hari', 'Darling' to name a few and she won the Padma Shri Award in the field of Arts in the year 2011
In this week's #BigInterview, Usha opens up like never before. She dives deep into her childhood, and walks down memory lane sharing some precious old jewels from her life. Usha reveals how she was a total tomboy, made manjas (kite string) at home and climbed Peru (Guava) trees. She also revealed the joy of earning her first salary, her first meetings with
Dev Anand
and Marathi legend Dada Kondke. She also reveals what she misses in life today, about her upcoming acting project with Kay Kay Menon and Ranvir Shorey and she recalls childhood memories with bestie Roshini Irani (Boman Irani's sister). All this and more in this free-wheeling conversation with Usha Uthup. Read on…
You have a very distinct image as a singer and celebrity, but how was your personality as a child?
As a child, I was a good student. I was born and brought up in Mumbai (then Bombay) and I went to the Convent of Jesus and Mary School at Byculla, Clare Road. So I am a complete Mumbai girl. I belonged to a middle-class family and lived in Byculla's Clare Road, which was like a down market area. My father was in the police force and was on duty at the Byculla police station, and we lived in a huge British kind of pavilion. We were very simple people. And we remained like that, simple living and high thinking. I come from a family of six children. I am number five in the family. We lived very frugally, we didn't have much money, we had very little, but it was very wonderful. It was a wonderful little world that we all enjoyed, at least I did. We didn't have too much of anything, which is wonderful. I think when a child is brought up under such circumstances, he/she realises the value of things. My brother gave me a bottle of ink on my birthday as a present and we were so excited about it.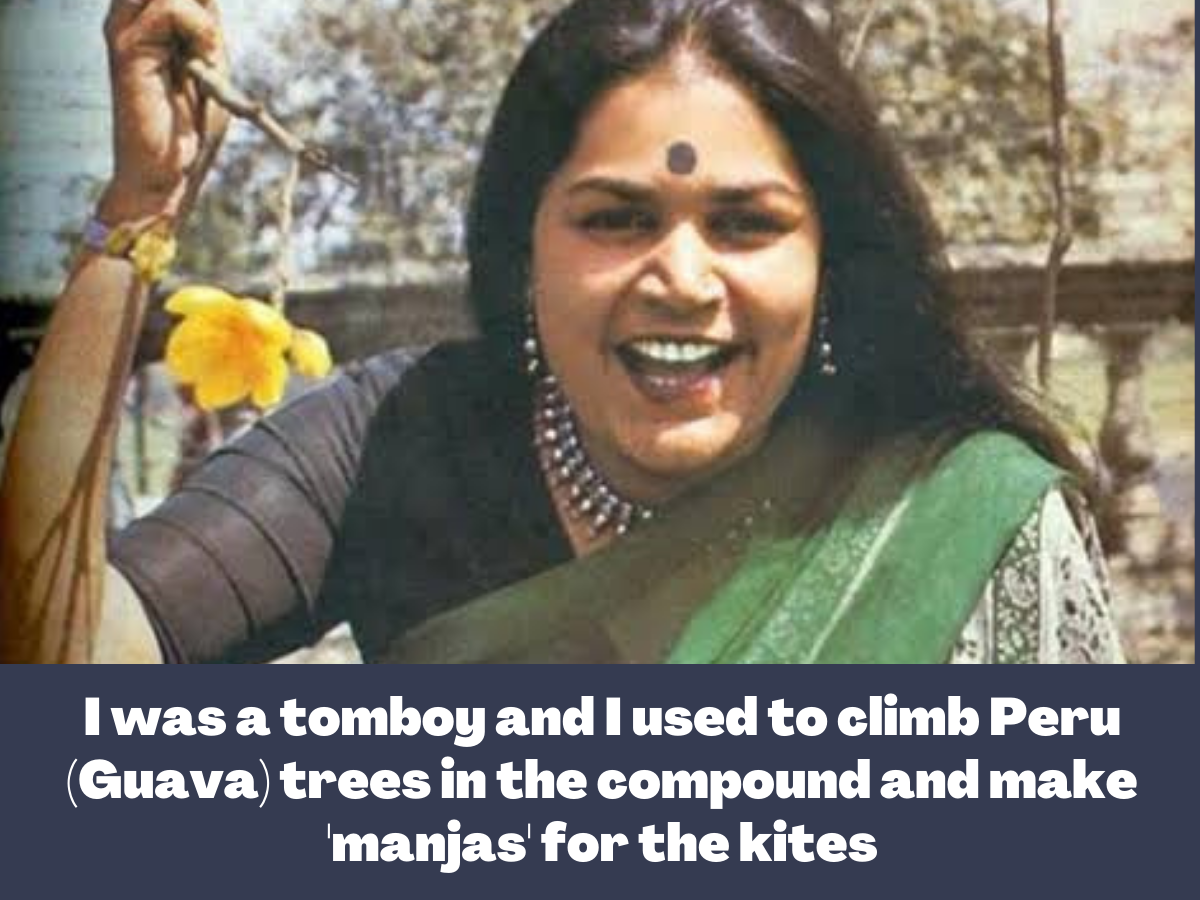 Can you please share some more memories from your childhood?
My mother always said that I was a good child and naughty as well. I was a tomboy, a complete tomboy because I used to climb Peru (Guava) trees in the compound and make 'manjas' for the kites and things like that. I would make the 'manja' at home. Can one believe that? Today one can't imagine asking his/her child to go near broken glass. But in those days, I used to grind the broken bulbs and would then mix them with maida (refined wheat flour), water and a little bit of colour which my mother always had in her kitchen because she would make sweets for us using those artificial colours. So I used to make 'manja' and I was very happy with that. We were very happy with those little gifts that we made for each other. I always obeyed what my parents said and I followed them. My childhood was very, very beautiful. I loved everything that happened in school. I remember we had a wonderful Marathi teacher named Mrs Raikar. I spoke with her in Marathi and sang many Marathi songs. Not only during school time but I was in touch with her even after school. I visited her home whenever I got time. It's wonderful to look back on my childhood and know that I believe in it and it's not just a piece of dialogue or something that I can share. I mean it. We struggled, we had a middle-class joint family and we had two uniforms and two pairs of shoes, one black and one white. But we were very happy with whatever we had. Because we weren't exposed to a lot. But now these kids are exposed to such much. I mean the kids know all the brand names and everything.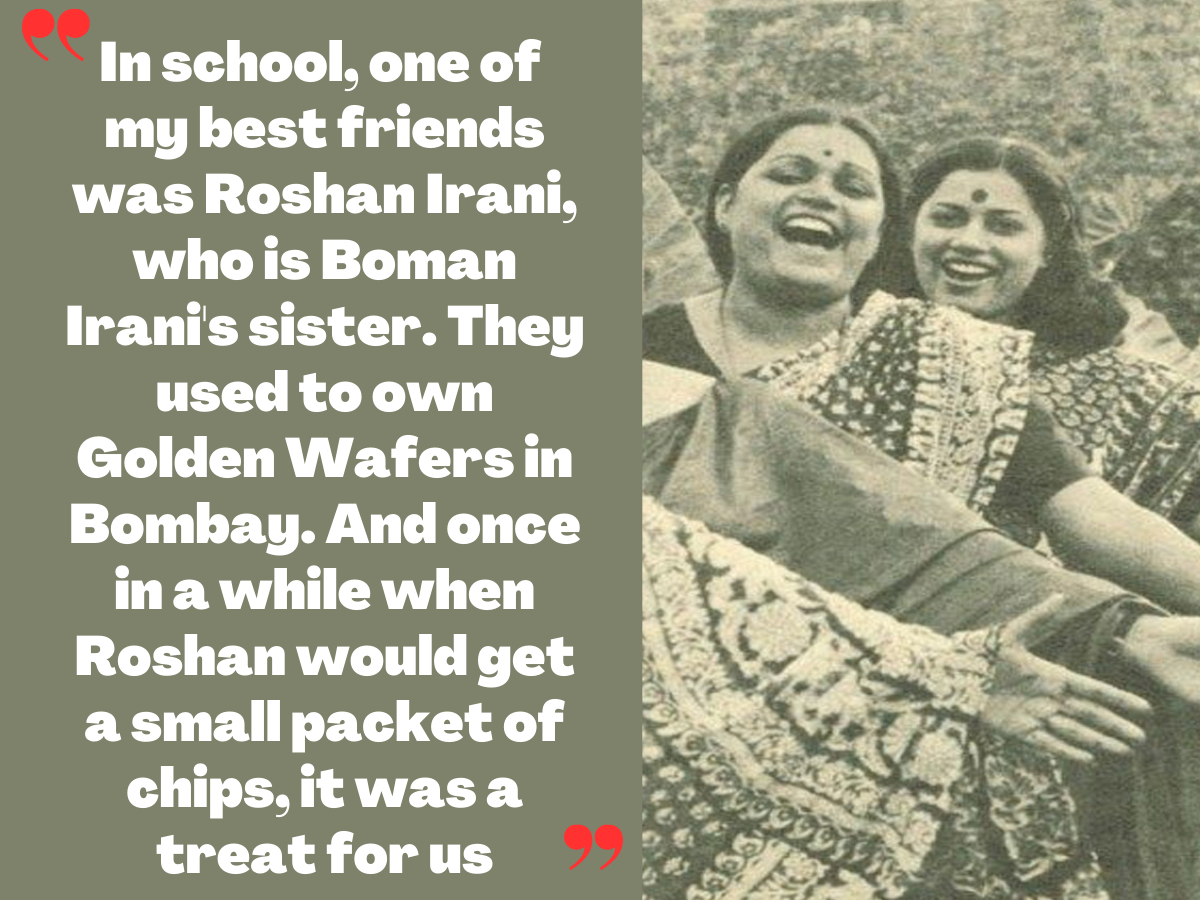 I have a very clear memory of our cute childhood, my brothers never allowed me to bat when we played cricket. They always kept me as a runner. My two elder sisters, Uma Pocha who sang 'Bombay Meri Hai', and my other sister Maya would play with us, too. We grew up in a big family and by the grace of God our dining table was full of food. The food was simple but always there. Being South Indians, we were happy with Rasam, Sambar and Dahi Bhaat and Dal occasionally and maybe Chapati. But we were happy with everything. You know we didn't crave too much. I remember in school, one of my best friends named Roshan Irani, who is Boman Irani's sister. They used to own something called Golden Wafers in Bombay. And once in a while when Roshan would get a small packet of chips, it was a treat to us. But we were happy with Vada Pav. Maybe that's why I'm still craving it all the time. Vada Pav is a magic word for me when I come to Bombay. 'Shenga', 'Chana' and 'Brun Pav', something which you don't get anywhere else. I still long for Brun Pav with a hot cup of tea or coffee. It's just such a beautiful meal. I grew up with all this.
Did your singing career ever affect your studies or academic pursuits?
Academically, I was always so good at language. The reason is, in school, the medium of teaching was English, the second language was Hindi, the third language was Marathi, the fourth language was French and at home, we spoke Tamil. So my language was always my strong point. But I think my Marathi is good. Of course, I grew up in Maharashtra, in Mumbai. So obviously my Marathi should be good. I was very very good at languages, History, and Geography, too, but I was very bad at Maths. One can say Zero in that subject and I was bad at science as well. It just didn't feature in my life. I couldn't understand it and I wasn't good at it. But in those days, I secured an 82 percent score in school, that's something really big. Besides that, my childhood was full of listening to the radio. There was nothing else. There was no other entertainment like kids have today with all the electronic media and things like that. It's very tough. The radio was my confidence.
Speaking of radio, can you recall your first meeting with Ameen Sayani and your first song that played on the radio?
It was amazing meeting Ameen and Hameed Sayani. My two elder sisters took me to Hameed Sayani and Ameen Sayani, they were brothers. Hameed Sayani used to do the English program and Ameen Sayani used to do the Hindi one. And it was a great experience because I was a little girl then. My sisters made ringlets in my curls, in my hair. And I wore a nice frock and I went. There was no money involved in this and I sang 'Mockingbird Hill' but unfortunately I forgot the lyrics and I started crying. So after a week or so, Hameed Sayani told my sisters to bring me back again. And I went and sang another song called 'Itsy Bitsy' and again I had forgotten the lines but this time I was alert, so I just mixed some non-lexical vocables and covered up my mistake so that it was not noticed. I believe in being a camouflage artist. No one should be able to make out your mistakes and you should be able to cover up them without being noticed by anyone.
How about your first professional performance and the happiness of getting the remuneration for the same?
It was by chance. My aunt helped me to get a few gigs and I always liked to sing for everyone. So I signed my professional contract with a hotel. And that was really something fantastic because, at the end of it, I got 750 rupees. Not for one show, but I got this amount for a month. I was standing and singing at the club and it was fantastic and I was the highest-paid singer in those days, I mean as a nightclub singer. So the thrill of earning that money was something else.
I was so proud and so excited to get that money in my hands. I remember one of the first things that I did was I bought a sari for my mother and a pair of socks for my father. I didn't get anything for myself but I gifted something or the other to everyone. I believe in giving. I was most excited to be able to give gifts. Because giving gifts on birthdays and occasions always meant a lot. I think it means a lot to middle-class people, even if it's giving something little. I don't think I got an opportunity to get anything for my two elder sisters. But I know I bought ribbons for my younger sister. So gifts were very very important. Giving was more important than anything else.
When you visit Mumbai, do you often visit the place Not Just Jazz by the Bay, where you actually started your singing career?
No, but I would love to go there. But it's not the same anymore. It has become 'Pizza By the Bay' now. Being there is like being at home for me. It's where all the big things happened to me, like singing and I love it. I just love it.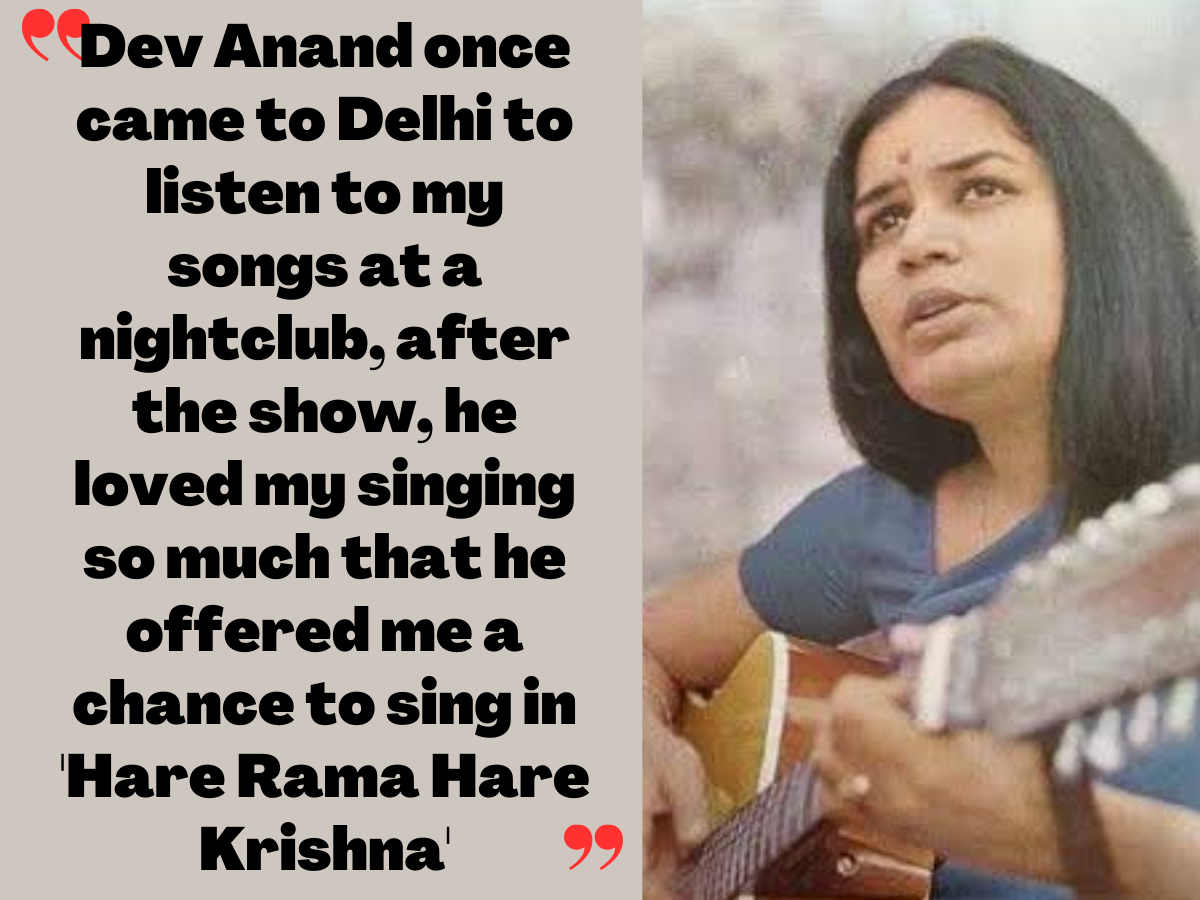 How did you make the transition from singing in hotels and clubs to singing for Bollywood films?
Bollywood singing happened when Mr. Dev Anand once came to Delhi to listen to my songs at a nightclub. It was a very special association with him and I was really excited after meeting him because, after the show got over, he asked me whether I would work on his project 'Hare Rama Hare Krishna'. The meeting was very, very special because he really loved my voice. And he really loved the way I sang. After which I worked with some extremely marvelous music composers like RD Burman, Bappi Lahiri, etc.
You also managed to transition to acting during your career in Bollywood.
Acting never came to my mind. I got offers and I tried them. It's fantastic working with everybody and I have plenty of memories of acting with some ace actors. I worked with Amitabh Bachchan, but at that time, I was much younger. The real learning about acting came to me from the Malayalam movie that I did with Mammootty. I mean, working with such senior artistes was really fantastic. And I learned a lot from Mammootty. I also learned a lot from Nedumudi Venu as well. There were some amazing actors with whom I got an opportunity to work and in 'Saath Khoon Maaf' I worked with Priyanka Chopra, who is a very professional actor. The people I really got an opportunity to learn a lot from were Naseeruddin Shah and Annu Kapoor, who also acted in the same movie. It was a really amazing and terrific experience. I am currently working on a series for the BBC. It's the Indian adaptation of 'Sherlock Holmes'. It's been a great opportunity for me. I'm hoping that it does really well. I am portraying Mrs. Hudson where Kay Kay Menon and Ranvir Shorey are my co-stars.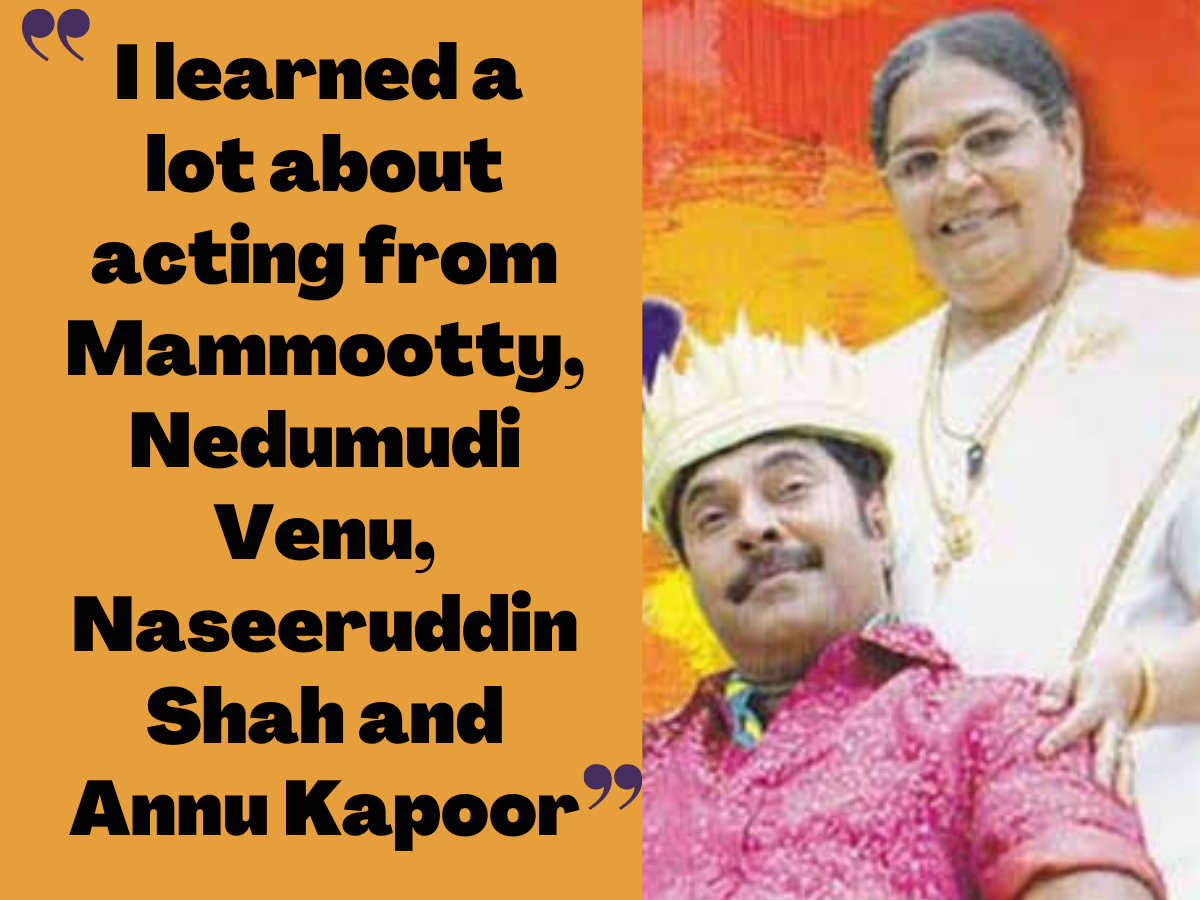 You are one of the few from the film fraternity who have met the late Marathi actor Dada Kondke. Please share your experience.
I was very young at the time I met Dada Kondke. I remember it was during the Gokul Asthami festival that took place in Worli, Mumbai. Dada Kondke was also present and I sang a song. I didn't know any other Marathi song except, 'Kasa Kay Patil'. After my performance, he came up on stage and said, 'Excuse me' and he told me he liked my singing style very much. He asked me whether I would sing a song in one of his films. He called me for the recording and I sang one song for him. And he just loved it. It was amazing meeting him.
In a career spanning 5 decades, did you ever have a low moment, either at a live performance or during a recording?
My music has never let me down. Never, ever in my life. By the grace of God, whatever I've done so far has never made me feel low. When I face the audience, before I get on to the stage, I pray, I say a prayer and I try to concentrate on it. And, there is nothing really to feel relaxed about. In fact, I work best under pressure. But I think when I'm on the stage and I am able to do a good show, that's great relaxation for me. When I know that something is going to upset me, I count from one to 15 and I get rid of the bad mood. I'm happy actually working under pressure. I don't want a break. But before getting on to the stage I'm a nervous wreck.
What's your take on modern music and new singers from the industry?
I think the sky's the limit for singers today. There are such fantastic singers today. We have singers like Shreya Ghoshal, Sunidhi Chauhan, Arijit Singh, Shankar Mahadevan and Hariharan. They are absolutely brilliant singers. I mean, where is the question about it? Today's music is just marvelous.
How would you describe yourself as a mother, wife, daughter and grandmother?
I think as a mother, I'm very good. I wish I could have been better, because there's always room for improvement, that's what I believe. And I wish, I really wish that I could do much more for my family. It would be much nicer if I could. But yeah, I think I've been a good mother and a very good wife. I've been a very good daughter as well. My mother always told me that I was a good child. I am a rocking grandmother.
undefined
If not a singer, what other profession would you have pursued?
If I weren't a singer, I think I would definitely love to be a teacher. Teacher or tailor. My Karadi Tales are fantastic. My songs 'Chai Chai Coffee Coffee' and 'I'm just like you' are popular among kids. And one would be surprised to know the kind of following I get because of that, because of the children, it's really fantastic and during the lockdown, I started knitting woollen clothes that came out very well.
Audiences and fans have always seen you in sarees. What is your fashion mantra?
For me, fashion is all about comfort and consistency. And if one is comfortable in his/her skin, that's the best fashion. That person can never go out of fashion. Being comfortable in whatever one is wearing, is fantastic. One doesn't just change for the sake of it. My fashion funda is that one doesn't need to change just for the trend. For now, the trend may be to wear a saree in a different way and some might follow as well because they are comfortable with it. But that is not the case with me. For me, the most important thing is that we feel comfort and consistency. And I think these things will never go out of fashion.
What's that one thing that you really miss in your life right now?
I miss being with my grandchildren. I have missed it ever since COVID started. The freedom to just go out and not be scared about the virus. Where is that freedom of moving around without being scared? I really miss that freedom. Besides missing my daughter and my grandchildren. I feel in the larger picture, after COVID, freedom has totally disappeared where you could just go out, without caring much about the world. Just sing and not be scared. Now, I am always worried because my son is on dialysis, and he has a kidney problem. So I'm always scared. I always pray to God and say, 'Please let me be safe so that he is safe'. And this thing is always going on in my mind. That's what I miss. Freedom to be able to really enjoy one's success. Times have changed, and one has to always be worried. The freedom to enjoy life the way we used to is something I miss today.
Listen to all smashing hits by Usha Uthup here: https://gaana.com/artist/usha-uthup
Source link